Xiaodong Yang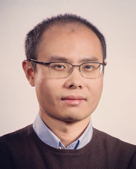 Xiaodong Yang is a Senior Research Scientist at NVIDIA Research. His research interests include computer vision, machine learning, deep learning, and multimedia. He has been working on image and video understanding, activity recognition and detection, face and gesture analytics, target re-identification, image and video generation, etc.
             Email / CV / LinkedIn / Google Scholar
News
Four papers accepted by ECCV 2020 on person re-id, object detection, data synthesis and phrase grounding.
One paper accepted by CVPR 2020 on weakly-supervised object detection.
Co-organizing the AI City Challenge at CVPR 2020.
Our dancing to music work is featured on NVIDIA Blog.
Giving a talk on temporal modeling and data synthesis at CMU.
One paper accepted by NeurIPS 2019 on music to dance generation.
Two papers accepted by ICCV 2019 on video object detection and vehicle re-id.
Recognized as an outstanding reviewer at CVPR 2019.
Giving a tutorial on recurrent neural networks for video analytics at GTC 2019.
Three papers accepted by CVPR 2019 on person re-id, action detection, and multi-target multi-camera tracking.